How Mainland Helped MOOYAH Burgers, Fries and Shakes Grow From 10 to Nearly 100 Locations in Under a Decade
By aligning the better-burger brand's consumer and development marketing strategies, Mainland helped MOOYAH establish itself as a premier player in the crowded burger segment.
Rocket Fuel for Your Brand's Growth
INTRO
MOOYAH Burgers, Fries and Shakes began working with Mainland — then called No Limit Agency — in March of 2012. The "better burger" brand was seeking a partner that would be able to support the brand on both the consumer and franchise development level. From the start, Mainland worked as an extension of MOOYAH's internal team, creating overarching campaigns that would drive brand awareness to increase customer visits while also expanding awareness of the franchise opportunity.
PROBLEM
The burger space — like the fast casual space in general — is crowded. MOOYAH needed help sticking out of the pack as a brand worth considering for franchise investors and consumers, both of whom have no shortage of options.
SOLUTION
Mainland helped MOOYAH define the brand's consumer- and investor-facing why you, why now, establishing target personas (the brand's most likely consumer and franchisee candidates) and crafting stories designed to appeal to those audiences. Mainland then ran campaigns designed to promote both the franchise opportunity and consumer offerings with a consistent voice and messaging across channels.
When a new MOOYAH franchisee signs with the brand, Mainland creates a franchisee profile to establish the human-interest "like me" story. Then, Mainland drafts a press release about the franchisee, which is posted on the wire along with MOOYAH's 1851 Franchise brand page. At the same time, Mainland pitches the franchisee's story to local and national media outlets, positioning MOOYAH executives to discuss growth in that market and new opportunities based on market capacity. Once press is secured, Mainland extends the life of that press by aggregating the story to MOOYAH's 1851 brand page. Mainland then targets markets for expansion based on target-persona demographics and starts driving awareness of the franchise opportunity to promote the brand's growth.
On the consumer front, Mainland crafts a variety of consumer-focused pitch projects throughout the year, including LTO announcements, menu upgrades and special burger-themed holiday promotions through blogger outreach, TV pitching and a strong focus on consumer media.
RESULT
Since partnering with Mainland in 2012, MOOYAH has grown from 57 open locations to 78, with agreements signed for 35 additional restaurants to be developed over the next five years.
Mainland consistently keeps MOOYAH in major local, national, and trade media outlets, including FOX Business, the Wall Street Journal, Entrepreneur Magazine, Fast Company, USA Today, Thrillist, Forbes and the Associated Press. MOOYAH has been featured year-after-year in press that dramatically moves the needle for MOOYAH's franchise growth.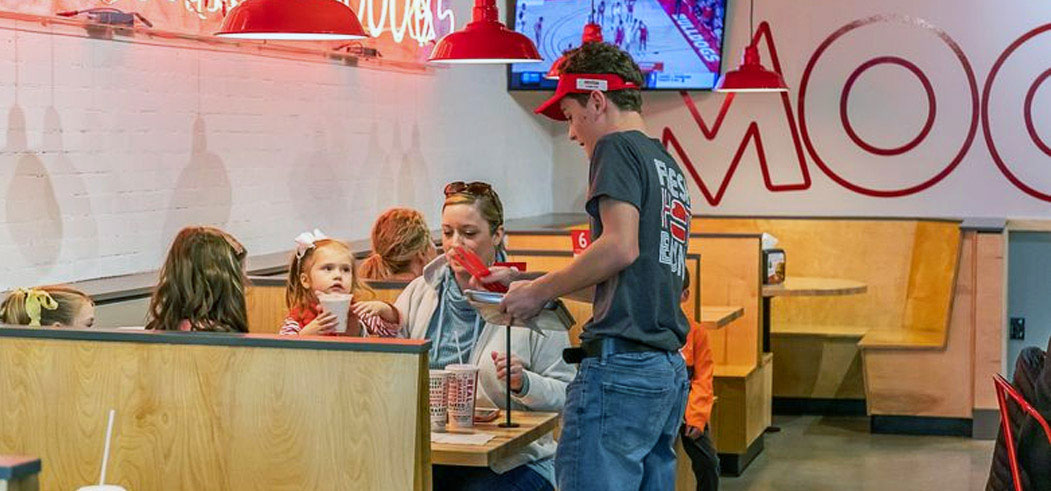 HOW MAINLAND WON
According to York, the majority of franchisees who have signed with GYMGUYZ say they were first introduced to the brand by content created by Mainland and posted to 1851 Franchise. York says the content has helped paint a clear picture of who the brand is and why it's an attractive franchise opportunity.
"Vision is very important and it determines how your brand fits into the marketplace and the future," said York. "GYMGUYZ has right tools and systems in place that a franchisee needs to succeed, so it's through the content and the PR efforts that we're able to tell the stories that franchisees need to hear to make them comfortable signing on with an opportunity like this one."
Nick Powills, CEO of Mainland, says that in today's content world, "it's about the message the audience wants to read, not the message the writer wants to deliver."
"We have nailed key personas, and when we're creating stories, we can stories in a way that appeal directly to the audiences we're trying to reach," said Powills. "Mainland also creates content that flows and takes candidates on a validation and research journey of the brand."
With the wave of prospect-engaging content, York is confident that GYMGUYZ will reach its growth goal of 100 units in 2021.
"The growth journey has been fantastic — it's a rollercoaster ride. There's a lot of challenges as you grow, it's about bringing on the right people and doing it properly, but the ride has been great," said York.