How Mainland Used Target PR Campaigns To Jumpstart Franchise Growth for Home Clean Heroes
In less than two years, Mainland secured media placements worth more than $2.2 million in PR value and more than $640,000 in ad value for the emerging franchise brand.
Rocket Fuel for Your Brand's Growth
PROBLEM
Emerging brands often have small budgets, low brand awareness and ambitious growth. This combination can be challenging to navigate, but it's not insurmountable. Identifying a brand's why you, why now is the first step. This positioning lays the foundation for all the marketing strategies that follow: owned (content), earned (amplification through PR), paid (amplification through digital and other paid marketing channels) and data (evaluation of the campaign and readjustment).
SOLUTION
Through the process of identifying the why you, why now, Mainland guides the messaging strategy and hunts for stories that can be positioned to the media. For brands like Home Clean Heroes, this approach has proven to be invaluable, as earned media offers third-party credibility and, when done the right way, helps to fuel brand growth.
By creating a consistent flow of earned media, Mainland helped to build an online footprint for Home Clean Heroes. Prospective franchisees look into all aspects of a brand before even raising their hand to inquire. One of the first things that a prospective franchisee does is Google the brand. Creating a steady flow of content gets those great brand stories in front of prospects, and also showcases that the brand has marketing and PR support programs in place for its franchisees.
RESULT
When Mainland began working with Home Clean Heroes, we dove in head first to identify the right angles, and find the right reporters at the right publications to tell the right stories. Sounds easy, right? (We try to make it seem that way). Home Clean Heroes launched its franchise opportunity in 2018, with just one (very successful) corporate location in Virginia Beach. Since Mainland came on to help drive growth through PR, the brand has signed agreements with new franchisees in Williamsburg, Virginia and Tampa, Florida, as well as a six-unit deal to develop Home Clean Heroes in the Atlanta area.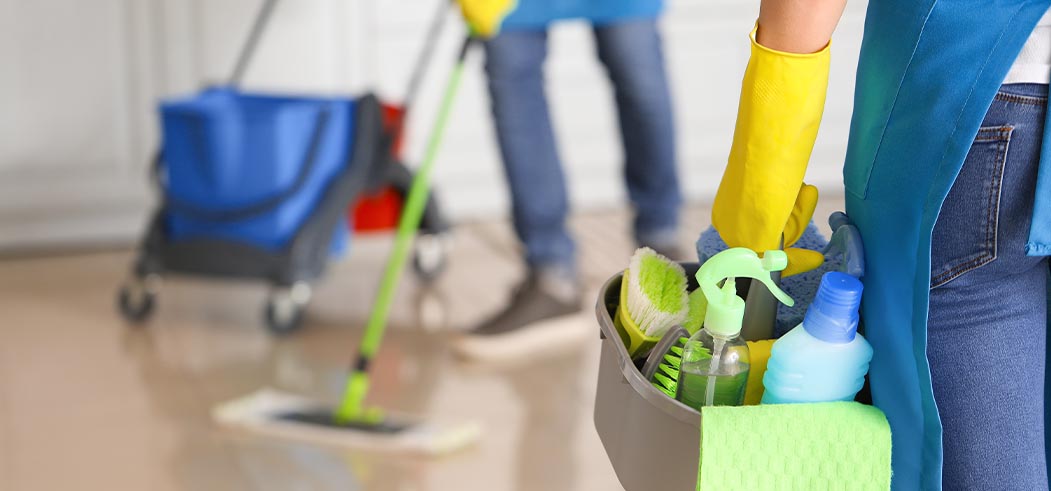 HOW MAINLAND WON
When trying to understand the specifics about a brand, we dig deep to identify what sets them apart from other brands in the space. For example, there are plenty of cleaning brands in the franchise space, but Home Clean Heroes benefits from the support of Buzz Franchise Brands, which has perfected its franchisee support model. Also, most cleaning brands market around the idea of the "maid," a tactic that Home Clean Heroes made an active choice to avoid by referring to its cleaning specialists and franchisees "heroes."
Using these differentiators, paired with the success of its first location in Virginia Beach, a data-driven target market strategy and a creative approach to finding opportunities to lean on Home Clean Heroes' cleaning expertise, Mainland got to work.
Since partnering with Home Clean Heroes in mid-2018, Mainland has booked dozens of media placements, driving traffic to the brand's franchise development site, providing a steady flow of press and helping the brand leverage that press in its franchise development marketing strategy.
In just a year and a half, Mainland has booked more than 40 interviews and 48 secured placements, which carry a PR value of over $2.2 million and an advertising value of more than $640,000. Press highlights include consumer placements that leverage the corporate team's cleaning expertise in NBC News, New York Magazine, Reader's Digest, Realtor.com, Money.com and MSN Lifestyle; placements about brand growth in Williams York Daily, The Virginian Pilot, The New York Times and Franchise Times; press about the brand's plans to grow in key target markets like Reno Gazette Journal, Biz New Orleans and Greeley Tribune; and industry press in Franchising World, Franchise Marketing Radio and the IFA Smartbrief, among others.
For Home Clean Heroes, these press placements have helped tell the brand's rich stories — from its franchisees' path to business ownership to the parent company's growth and support and more. By honing in on the brand's differentiators and putting the proverbial pedal to the medial in media relations, Home Clean Heroes is well on its way to achieving its franchise growth goals.