How Big Blue Swim School Has Signed 81 Units in Just Over 18 Months by Partnering with Mainland
In its first year of franchising, Big Blue Swim School has partnered with multi-unit, multi-brand franchisees to grow its national footprint, thanks to strategic content marketing strategy and execution from Mainland.
Rocket Fuel for Your Brand's Growth
INTRO
Big Blue Swim School has been a leader in the industry since national champion swimmer Chris DeJong implemented his vision to help young swimmers reach their full potential in the water and develop skills that will contribute to life-long confidence in 2009. Big Blue offers swim lessons for kids aged six months to 12 years old in a fun and safe environment for swimmers and a relaxed and comfortable setting for parents.
Since its founding, Big Blue Swim School has already broken an impressive number of gold-medal-worthy benchmarks, including opening a total of six pools (five in the Chicago area and one outside Atlanta), securing majority-stake backing from private equity from Level 5 Capital Partners; introducing innovative proprietary lesson planning and scheduling software, LessonBuddy™; and opening its doors to franchising.
PROBLEM
When it launched its franchise opportunity, Big Blue set an aggressive growth goal, but it had little national brand awareness outside of its home market of Chicago. Plus, with a small footprint of corporate-owned locations and a high cost to invest, Big Blue needed support to illustrate its turnkey business model and strong unit-level economics to prospective buyers.
SOLUTION
To reach prospective franchisees, we produced a pool of content that speaks to every aspect of the Big Blue franchise opportunity and developed the strategy and execution of AMPD campaigns to get the content in front of the right audiences.
RESULT
Our strategy drove hundreds of qualified leads to Big Blue's franchise development website. In just over a year and a half, Big Blue Swim School has grown from five schools located in the Chicago area, to 81 franchise locations signed and in development across 18 states.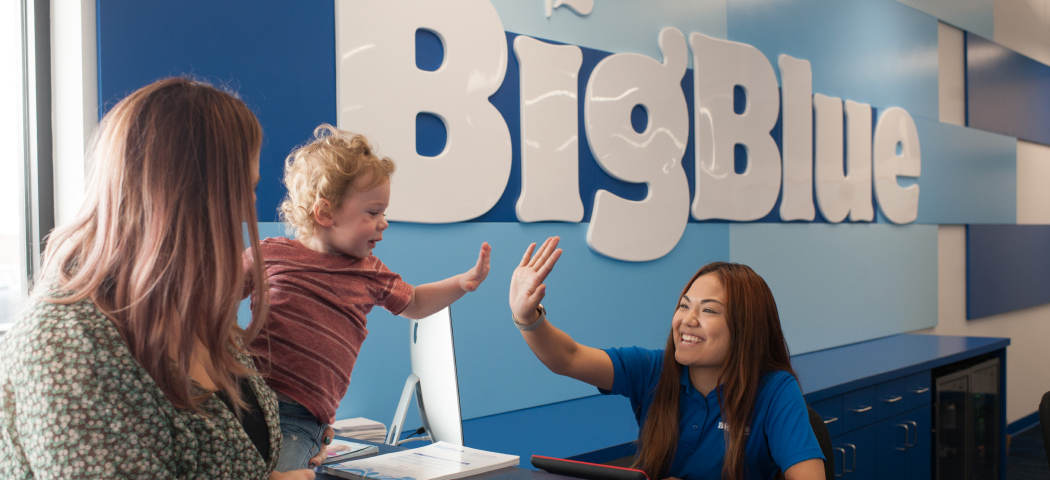 HOW MAINLAND WON
According to York, the majority of franchisees who have signed with GYMGUYZ say they were first introduced to the brand by content created by Mainland and posted to 1851 Franchise. York says the content has helped paint a clear picture of who the brand is and why it's an attractive franchise opportunity.
"Mainland has produced innovative stories and used their AMPD technology platform to connect those stories to our target audience through digital marketing," said Thompson. "Rather than someone going through all these websites and questioning if this opportunity is right for them, 1851 gives people the clarification and answers they need about Big Blue. People are interested in us because of these stories."Mainland thrives on telling unique and compelling stories that will resonate with a brand's specific audience. Mainland CEO Nick Powills says that in today's content world, "it's about the message the audience wants to read, not the message the writer wants to deliver."
"We have nailed key personas and when we're creating stories, we can story-tell the way a specific audience wants to learn about the brand," said Powills. "Mainland also creates content that flows and takes candidates on a validation and research journey of the brand."
With the wave of prospect-engaging content, Thompson is confident that Big Blue will reach its growth goal of 150 units in 2021.
"We get a lot of positive feedback from folks who have read our stories, which makes our team really excited for the future stories that Mainland will be producing to help us grow," said Thompson.