How Mainland's Strategic PR Turned Mighty Quinn's Barbeque Into a Household Name
The BBQ franchise wanted to grow outside of its home state of New York, so Mainland started telling its story in markets across the country.
Rocket Fuel for Your Brand's Growth
INTRO
Ask anybody in New York: Mighty Quinn's Barbeque has established itself as a mainstay for slow-cooked, authentically smoky BBQ that combines the best of Texas and Carolina styles into a unique, crowd-pleasing menu. Mighty Quinn's Pitmaster, Hugh Mangum, has been dishing out chopped and pulled meats since 2011, when he hitched a smoker trailer to a truck and parked in Williamsburg, Brooklyn. Since then, the brand has grown to nine corporate-owned stores in iconic locations around New York and New Jersey, including Yankee Stadium and Madison Square Garden.
But Mighty Quinn's isn't a timid brand, nor is their cuisine confined to regional tastes. They say if you make it in New York City, you can make it anywhere — but that doesn't mean you won't need a little help. That's why Mighty Quinn's Barbeque hired Mainland: to help the brand reach new audiences in new markets and grow its emerging franchise opportunity.
PROBLEM
Don't tell anyone walking down fifth avenue, but the world is much larger than New York City and New Jersey. Mighty Quinn's wanted to franchise the brand nationally, but had little brand awareness outside the tri-state area. The franchise has strong personalities and stories to tell, but didn't have an audience to listen. When Mighty Quinn's hired Mainland, it had done its homework in identifying viable target markets for growth, but it needed help communicating how its business model translated from the Big Apple to other markets across the country.
SOLUTION
To reach potential franchisees in new markets, Mainland positioned Hugh Mangum as a national authority on barbecue. National Wing Day, the Superbowl, Labor Day — all of these national events became a springboard to pitch Mighty Quinn's to different media outlets. But the local games mattered too. Mainland built up Mighty Quinn's as a national brand and then leveraged those successful media outlets to pitch to smaller markets it had targeted for growth.
RESULT
Mainland's strategy spiked interest in franchise opportunities with Mighty Quinn's, driving hundreds of qualified leads to the brand's franchise development website while making the brand a household name. In just over two years, Mighty Quinn's has signed on two new franchisees and expanded its footprint dramatically in the national media scene.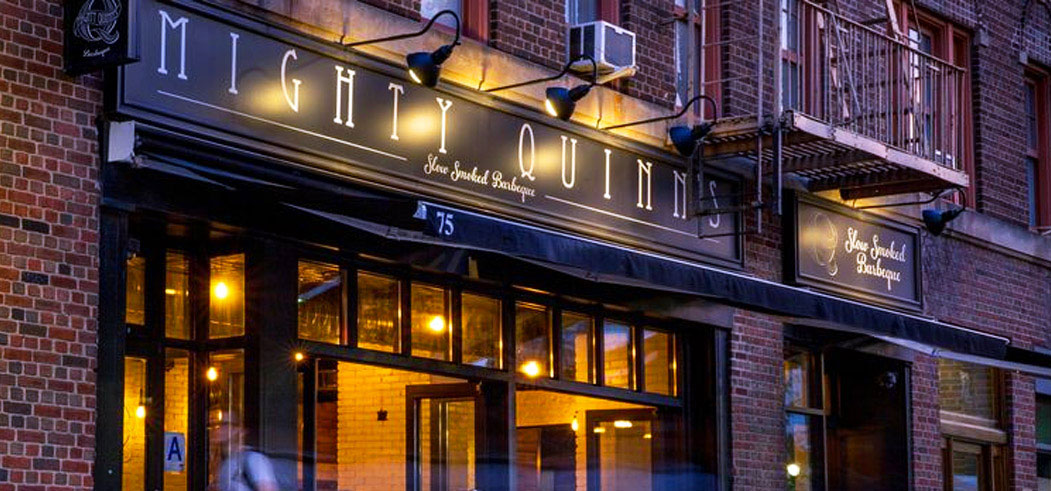 HOW MAINLAND WON
Mainland won the messaging battle by writing press releases and pitching those releases to big-name outlets and market-specific publications. Within a month of signing on with Mainland, Pitmaster Hugh Mangum was on Cheddar discussing the brand's proprietary chicken wings. That type of placement provided the brand $318,500 in value.
Over the course of the next two years, Mangum and Mighty Quinn's became perennial favorites for national news outlets, and when they opened in a new market, local media was quick to get in on the fun. Thanksgiving provided Mangum a chance to show the country how to smoke a turkey. In summertime, Mangum was giving grilling tips to NBC. Since working with Mainland, Mighty Quinn's has signed on two additional franchises.
"Mighty Quinn's is a New York institution, and came to us to get visibility on their existing restaurants and get exposure of their franchise opportunity," Nick Powills, CEO of Mainland said. "In our time working with the brand, we have booked many national feature stories and TV segments, as well as trade features and rich local feature stories. Our press has directly led to franchise inquiries and helped to grow their footprint."